Products used
Introduction
Industrial flooring has been commonly installed for decades with "traditional" concrete, using poor quality concrete with inadequate performance, reinforced with modest or inadequate steel mesh, superficially armoured with hardening aggregates mostly involving river sand of modest Mohs hardness, etc. These floors are very often subject to chipping or detachment of the surface powder, fraying of the casting and expansion joints, the gradual wear of the surface hardness, the increase in concrete permeability and therefore degradation phenomena such as frost-defrost cycles, the loss of strength due to knocks and wear, etc. New technologies have made available innovative products and systems to solve the aforementioned problems, thanks to which we can finally confirm the time has arrived for "special concrete flooring".
Description of components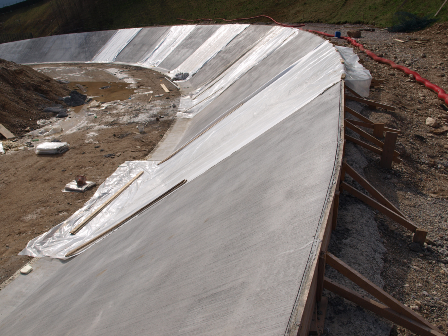 The products used that characterise the concrete and the surface reinforcement of this innovative flooring can be briefly described as:
High quality concrete, packaged with cement characterised by the highest Blaine and standard of concrete (for example cement 42,5R type II-AL or II-ALL)
Aggregates certified as washed, selected and perfect on the Fuller grading curve.
Fluidifying and plasticising, specifically for concrete with the addition of micro-silicate and structural polyolefin fibres
Stranded structured fibres in polyolefin READYMESH PF-540
Thickened micro-silicates (MICROSIL 90)
super-dusted hardening material FLOOR VULKAN, composed of a special mix of quartz, basalt and corundum (the hardest minerals on the Mohs scale) and an adequate quantity of hardening micro-silicates MICROSIL 90
Final completion of the floor is composed of a special consolidating and dust-proof treatment with a lithium silicate base (QL NANO LITHIUM) applied immediately after surface reinforcement. Its main properties are:
Applicable on concrete when it is still fresh as a curing compound, as soon as the surface is treadable.
Considerably reduces (90%) cracks in the floor during the maturation phase.
It is the only chemical hardener that contributes to lessening and preventing alcali-silical reactivity (ASR).
It integrates the dust-proof reinforcement, improving it considerably.
It does not crack, does not detach, does not create a film and does not bubble.
The extraordinary contribution to deep consolidation makes the surface of the concrete completely dust-proof and highly resistance to abrasion.
Continuous use of the flooring contributes to continuously improving the surface shine.
It does not alter slippiness in any way.
It resists frost and defrosting cycles.
It does not contain solvents, is odour-free and inflammable, is non-toxic, non-carcinogenic, does not contain volatile substances (VOC free) and can also be used in enclosed premises.
It is perfectly compatible with other materials such as: epoxy, polyurethane and acrylic resins, etc.
It is UV resistant and remains stable over time.